Great guacamole starts with perfectly ripe avocados (I always have to remind myself to plan ahead a day or two) - you'll know they are ready by cradling each candidate in your palm and pressing confidently against the the pebbled skin with the pads of your fingertips. If the flesh feels as if you might leave a faint mark, you likely have a good one. If the flesh feels as if it might collapse beneath your grip, move to the next - over ripe. Some people prefer the button test - you'll know an avocado is under ripe if you attempt to jostle the little stem button around a bit and it won't budge. Falls right out? It might be too ripe.
Great Guacamole is simply avocado, onions, garlic, lime and salt.
1 clove garlic, minced, 4 avocados, 1/2 lime, 1/2 teaspoon salt, or to taste, 1 small white onion
White onions, not yellow. White onions deliver a clean, sharp onion flavor that is less sweet and soft than your standard yellow onion. White onions cut through the richness of the avocado nicely.
Resist the urge to over mix guacamole, it should have lots of big chunks - unruly texture bound together loosely with vibrant green avocado flesh. It is not a puree.
Heat oven to 350 and bake the naan wedges for 10 minutes or so - just enough for them to crisp up a bit. Serve in a bowl with a big pile of the naan wedges on the side and a sprinkling of curry powder on top (a bit of chopped cilantro would look nice as well).
http://www.101cookbooks.com/archives/a-twist-on-guacamole-recipe.html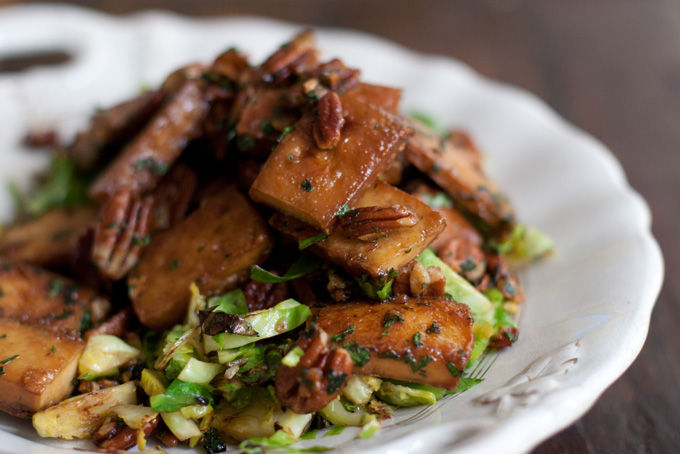 I used the Wildwood Organics baked savory tofu here, it browned up nicely and held it's shape, and as was mentoned in the comments it is non-GMO. Though any extra-firm tofu will work.
GR Notes: If you are in Wisconsin, Get Bountiful Bean Tofu from Simple Soyman in Milwaukee.
7 - 8 ounces extra-firm tofu cut into thin 1-inch segments (see photo)
a couple pinches of fine-grain sea salt
a couple splashes of olive or peanut oil
2 medium cloves garlic, minced
1/3 cup pecans, toasted and chopped
3 tablespoons fine-grain natural cane sugar or brown sugar
1/4 cup cilantro, chopped
1/2 lb. brussels sprouts, washed and cut into 1/8-inch wide ribbons
Cook the tofu strips in large hot skillet (or pot) with a bit of salt and a splash of oil.
Saute until slightly golden, about 4 minutes.
Add the garlic and pecans, and cook for another minute.
Stir in sugar.
Cook for another couple of minutes.
Remove from heat and stir in cilantro.
Scrape the tofu out onto a plate and set aside while you cook the brussels sprouts.
In the same pan (no need to wash), add a touch more oil, another pinch of salt, and dial the heat up to medium-high.
When the pan is nice and hot stir in the shredded brussels sprouts.
Cook for 2 - 3 minutes, stirring a couple times (but not too often) until you get some golden bits, and the rest of the sprouts are bright and delicious.
Serves 2 - 3 as a main, 4 as a side