Extra virgin olive oil adds a subtle depth of flavor and richness to cake, which is perfect for vegan baking. Olive oil is also a heart-healthful oil (aka the "good fat") that protects against heart disease and high cholesterol. So what are you waiting for?
Try this easy recipe and enjoy a piece of moist lemon cake topped with grilled summer fruit—guilt-free!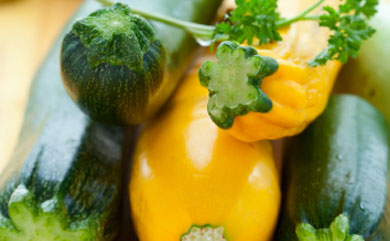 Zucchini & Eggplant Chips

Here we are, at the end of July. If anyone knows how this month flew by so quickly, we're all ears. Thankfully, even though the amount of time left in summer is quickly diminishing, there is still a plenitude of fantastic produce. This week in our Summer Recipe Spectacular, vine-ripened veggies are the star. These crispy, delicious chips by VN columnist Terry Hope Romero are one of our favorite ways to enjoy summer's abundant zucchini.
Serves 4
What You Need:
1 pound small eggplant
1 pound zucchini
1/2 cup vegan mayonnaise
1-1/2 cups panko bread crumbs
2-1/2 teaspoons dried oregano
1 teaspoon dried rosemary, crumbled
Olive oil cooking spray
What You Do:
1. Preheat oven to 400 degrees and lightly oil two large baking sheets. Slice eggplant and zucchini into 1/4-inch, diagonal slices and lightly sprinkle with salt. Arrange on paper towels and let sit for about 30 minutes, and blot off any excess moisture.
2. In a shallow bowl, beat vegan mayonnaise with a fork until smooth. In a small baking dish, combine panko crumbs, oregano, and rosemary.
3. Take a slice of eggplant or zucchini and coat both sides with a thin layer of mayonnaise. Dredge each slice generously with herbed panko, and then place in a single layer on baking sheets. Spray with olive oil and bake for 10 minutes, then flip each piece over, spray with more oil, and bake for an additional 10 minutes until panko is golden and crisp. Move to serving platter and serve hot veggie chips immediately with skordalia.